54" Bartello Agean Limestone surround, Lytton cast, 54" granite hearth [with 30"x 3" Tongue] and NG2 coal effect gas fire
The Gallery Bartello 54" fireplace surround is a magnificent focal feature for your home, inspired by Edwardian designs. Crafted from natural Agean Limestone, it features a tiered feature across the chest and legs and intricate edging on the top shelf. This handsome mantel is a popular choice fitted on its own around a stove or combined with a cast iron insert or granite set.

​Agean Limestone is the most popular stone for fireplace construction, with clean, neutral tones of white, cream, and grey that complement existing décor and furniture. The luxury feel of this natural stone sets it apart from other man-made materials. With an overall shelf width of 1370mm (54"), the Gallery Bartello will work well in any standard sized room.

​In the images, it is shown with the Gallery cast iron insert, which is available as an option and gives you the choice of adding a dedicated gas fire, electric fire, or solid fuel kit. Alternatively, the Bartello limestone mantel is compatible with most other inserts within the Gallery range.

​*All of the cast inserts featured in the Gallery Fireplaces range are suitable for burning multi-fuel (wood, coal) when fitted with their dedicated solid fuel kits. However, polished and highlighted products may tarnish.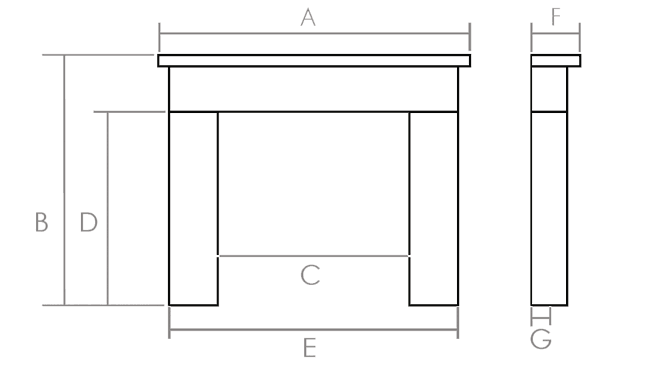 A-1370mm
B-1165mm
C-910mm
D-910mm
E-1254mm
F-200mm
G-75mm